Aramid fibers
Aramid fiber (registered trademark Kevlar) is a generic name for aromatic polyamide fibers. Aramid fiber materials are used in applications when excellent light-weight, high impact strength, and toughness properties are needed. Aramid fibers have natural flame retardant, self-extinguishing, chemical and heat resistant, and excellent tensile strength properties.
Aramid fibers are usually used in combination with other reinforcements so both materials' properties may be utilized.  Glass and/or carbon fibers may be used with aramid fibers, so as to reduce the manufactured product's weight, as well as significantly/diversely improve the impact strength and toughness.
Kevra offers aramid fabrics, carbon-aramid fabrics, aramid tapes and aramid felts.
Weaves
Aramid weave Hexforce® 20914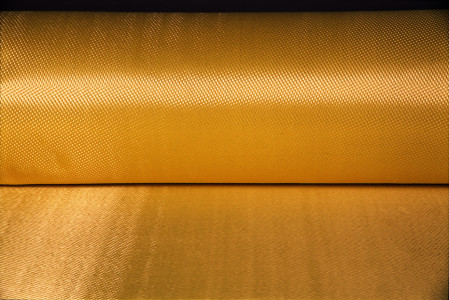 Width: 1200 mm
Weight: 175 g/m2
Weave construction: 4-harness satin
Tapes
Aramid tape 190 g/m2
Width: 50 mm, 25 mm
Thickness: 0,30 mm