Reinforced plastic laminate (fiberglass) damage reparation

Lamination reparation is done preferrably from the inside to prevent uneven, rough surfaces. The work starts by sanding a 15 cm radius around the damaged area using a sandpaper grit of 40-60. Sanding should be performed most thoroughly closest the edges of the damage and immediate surround areas. If a grinding machine is used make sure to finish off the sanding by hand to ensure a rough surface for optimal adhesion.

If necessary, use tape to create a barrier around the damaged area leaving space for adhesion. Lamination reparation is generally done with fiber glass matting (chopped strand mat) for the sake of adhesion. Even if the lamination requires a weaved fabric you should still start with chopped strand mat. Cut suitable, dry, pieces of the mat, so that the largest piece covers the entire roughened surface and sizes decrease as layers move deeper into the damaged area.

The weight to surface amount of polyester resin needed is 1 kg/m2. 1 % of hardener should be added to the polyester resin at 20 °C and 1,5% at 15 °C, so that there is 35-45 minutes of working time at these ratios. Always spread the polyester down first and place the mat second being sure to leave no air underneath or between layers. It can either be rolled with a roller or dabbed with a paintbrush. Small reparations can be done with a brush, and large jobs excedding 1 m2 should be done with a roller. The following layers may then be prepared following complete/partial curing time of previous layers. Before the topcoat is added it is beneficial to smooth out any uneven surfaces.

Topcoat is painted on twice with 6 hrs in between layers without sanding to obtain a proper water resistant seal.
Use proper protective gloves
Clean tools with acetone
Now we can remove the tape from the outside and sand the damaged area in preparation for painting. Protective tape should be put in place before sanding because the topcoat is not self-levelling and requires a certain thickness (2-4 layers). When an even foundation layer is achieved, wet sanding with grit size of 1000 or above should be performed. Be sure to leave enough space for the topcoat layers while repairing the damage (leave 0,5-1,0 mm space for the topcoat).
In the following picture we demonstrate the reparation of a row boat's keel. If the boat has an outer shell and inner core made from urethane that has absorbed some water, this dampened section must be removed and both the core and shell must be replaced.
Be aware that sealant foams in pressurized tanks are not intended for filling voids but rather, for example, sealing frames, wherein the foaming agent is constantly expose to air humidity in order to swell and cure.
Polystyrene, i.e. styrofoam, cannot withstand poyester resins.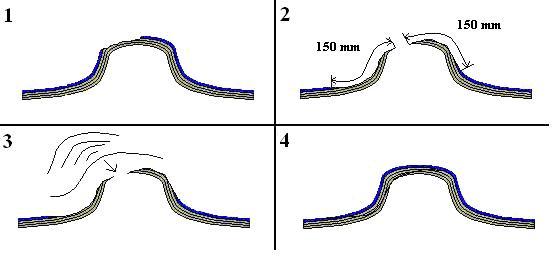 In the method pictured above and other relavent applications, it is also possible to use other types of reinforced plastic laminates on similar kinds of damage; which include anything from fixing laminated benches to larger bulkhead repairs. For the sake of adhesion, under no circumstances should proper sanding be neglected.
Cleaning a surface with acetone does not provide a good surface for adhesion.
Polyester resins and topcoats should be stored in a cool environment (even in freeezing temperatures) and protected from the sun's rays.
Should be applied at 20 °C.
Mix well