When a reinforced plastic item (e.g. fiberglass boat) suffers from scratches or other damage, it should be repaired as quickly as possible to prevent water absorption into the laminate.
Repair steps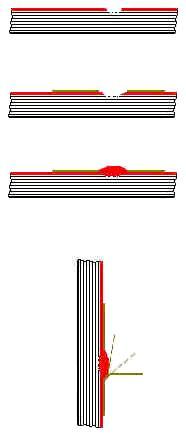 Protective taping
Sandpaper away sharp edges and loose material
Fill the damaged area with topcoat material

Dose the topcoat with about 2% of hardener.
Working time is about 15 min

It is important to prepare a minimum of 1 dl because mixing too little or too much of each constituent component (coat/hardener) will effect the cured quality. To prevent run-off on vertical surfaces, place tape on bottom edge as a barrier.

When the topcoat has cured, sandpaper the adjacent surfaces to the same level being sure that the original surface is protected with tape to prevent excessive wear.
Wet sanding will leave a matte surface finish. A gloss finish can be achieved by polishing with a surface paste.
The last, optional work-stage is waxing.
Color hues used in boat manufacturing can be ordered in most places around Finland and the Nordic countries. Please note that gelcoat damages are mended with topcoat, thus making the reparations completely unnoticeable. Topcaot, gelcoat, and polyester resins are always stored in cool place, however applied at a temperature of 20 °C. Mix thoroughly before use.